Deep Learning AI is our DNA
Rapta's highly configurable AI platform is the only 100%, on-premises solution to automate deployment of AI for manufacturing, inspection, training and process control. Our AI Supercoach replicates how the human eye and brain work together to enable our AI to understand diverse manufacturing assembly tasks. Our proprietary AI software extends upon technology pioneered by companies like Google DeepMind and Facebook and combines state-of-the-art CNNs, proprietary deep learning models, and deployment techniques to provide a complete, on Premises AI solution.
Deploying our AI Supercoach is fast and easy
Installing our AI Supercoach into your existing manufacturing environment is fast and easy and includes:
AI Supercoach software
AI Computer
Industrial POE Camera(s)
Gantry
LED Lighting
Touchscreen/HMI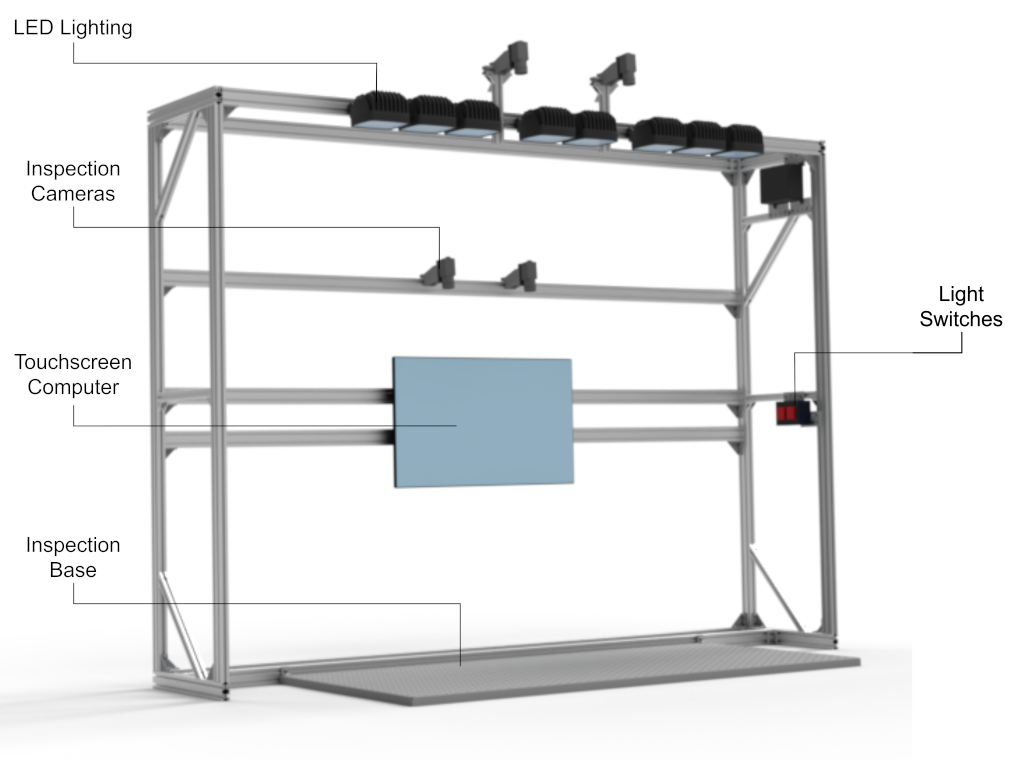 Our AI learns new manufacturing assemblies in minutes
Adding a new part assembly or assembly process is fast and simple with our guided, visual setup tool. Simply perform the assembly steps in front of our camera and the guided visual setup tool helps you get up and running fast. Our Deep learning AI analyses the recorded video and learns the correct sequence of steps from your expert. No code. No hassles.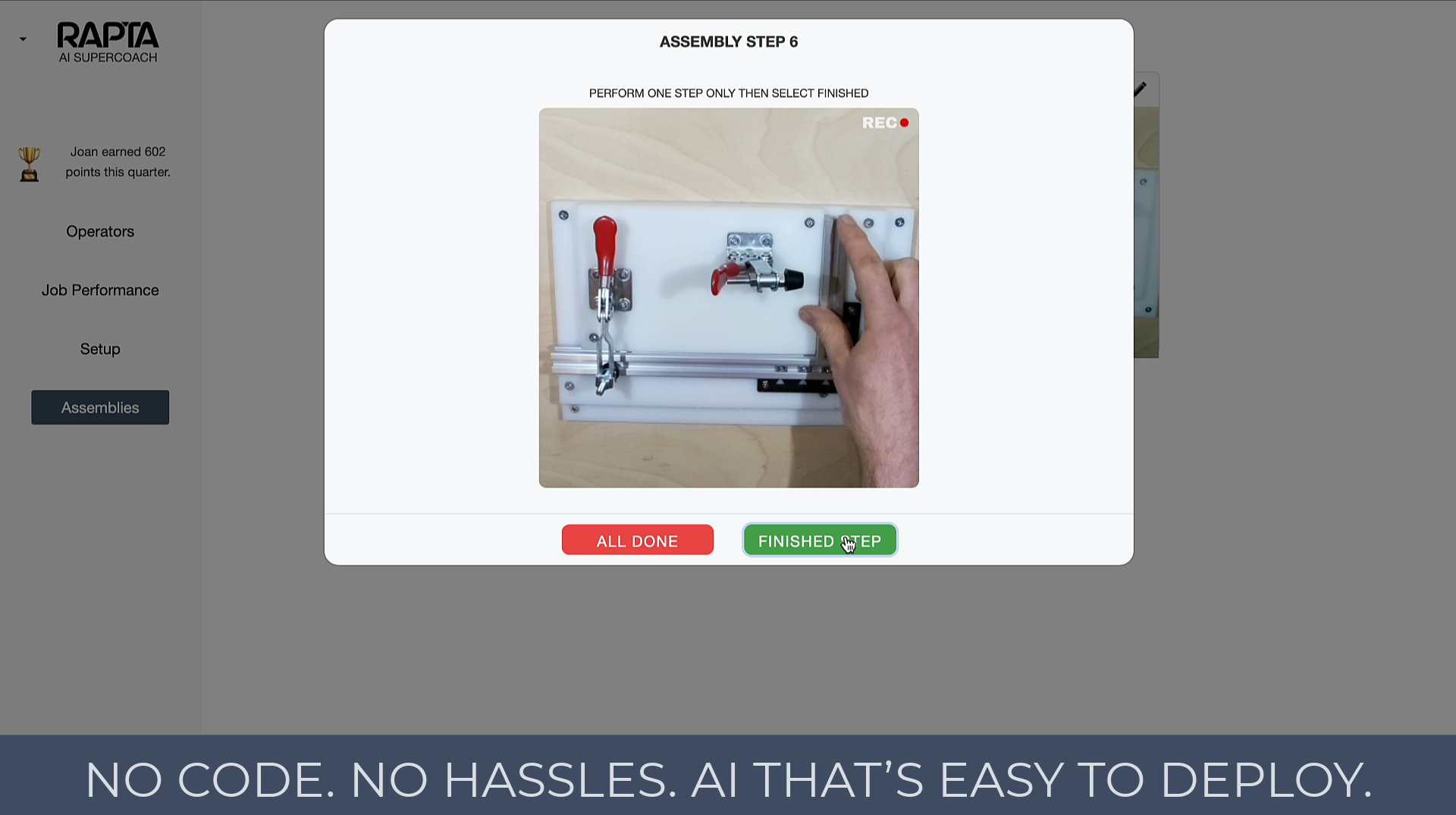 Continuous Training and Quality Assurance
Once deployed, the AI Supercoach delivers continuous training and quality assurance in real time ensuring work is being completed correctly. At this point Supercoach is ready for connection to your other business and enterprise software via API.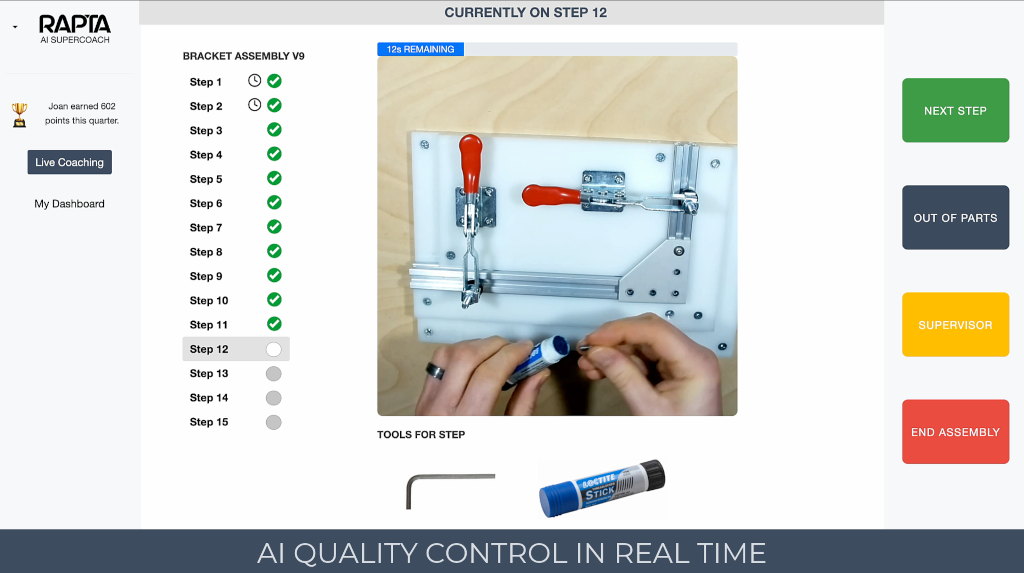 Integration with your other business software

Our industry leading, on premises AI solutions can integrate by API with your other business software multiplying business efficiency and productivity. Reach out to our customer success team to find out how our AI solutions can help solve your toughest challenges.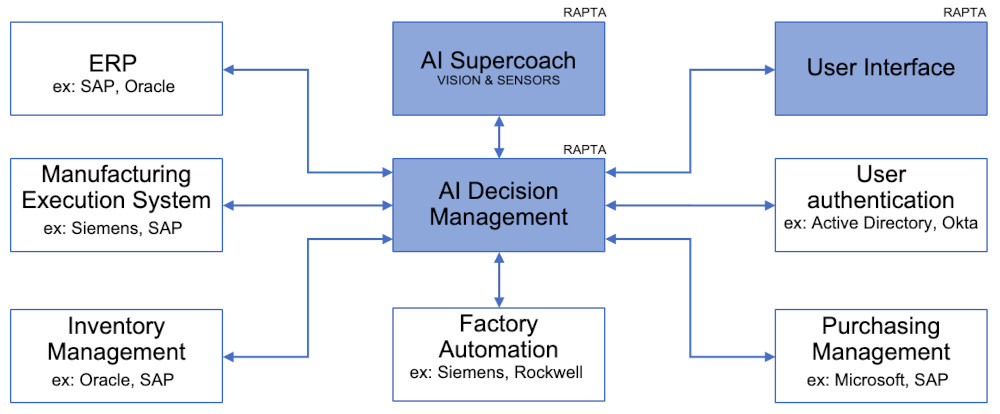 Learn More
Get a virtual demo of Rapta and see how we can help your manufacturing organization.